SaraBeth Sewell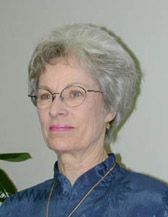 SaraBeth passed away on October 31, 2008 at her home in Piedmont after a two year battle with cancer. She was loved by many and will be deeply missed by her husband of 51 years and her 3 children.
SaraBeth Hampton was born in Dodge City, Kansas, November 7, 1939, to Annie Mae and Edwin Hampton. She was only 5 when her father was killed in action at the Battle of the Bulge in WWII. She and her younger sister lived briefly in Dallas, Texas, before moving to Plainview, Texas, where her mother attended Wayland Baptist College and worked her way through college graduation,
SaraBeth grew up in Plainview, Texas, and graduated from Plainview High School in 1957. She married Stan Sewell January 25, 1957, and attended Hardin-Simmons University with Stan her freshman year 1957-1958 before he enlisted in the Air Force September 1958. Stan and SaraBeth raised their three children as they followed his 20 year Air Force career stationed in Mississippi, Puerto Rico, Michigan, Colorado, San Antonio, Mountain Home, Idaho and finally served 6 years at Ellsworth AFB near Rapid City, SD, where they retired in 1980.SaraBeth and Stan loved the Black Hills and have remained here these 34 years. SaraBeth worked alongside Stan as they built their own log cabin which they moved into around Thanksgiving, 1982, and have lived in until her untimely death from cancer.
SaraBeth loved to collect materials to use to make things for other people. She so enjoyed sewing baby blankets for new and expectant mothers. She was always on the lookout for fabric that was suitable for a baby. She felt such a keen need to make gifts for others and kept a very large inventory of wrapping paper for that purpose as well as the holiday needs. Another great love was growing and enjoying her flower garden and hanging baskets of flowers. We had many photos across the years of her diverse flowers. This summers greater than usual rain made the most lush and varied flower garden of all her years and she relished every day she could look and handle the roses, lantana, etc.
Most of all, she was always deeply involved in Christian missions to foreign lands as well as here at home. She worked in organized foreign mission efforts thru her church, but personal mission efforts here in the Black Hills area, too. A special commitment was making Christmas boxes for children thru Samaritans Purse Operation Christmas Child sent throughout the world. She always involved her grandchildren in putting the boxes together with a huge inventory of items she found throughout the year that she knew children around the world would find exciting to receive.
SaraBeth was particularly discerning about which people she met that needed extra love and care because of their personal needs. Single parents and others left out by the activities and pressure of the day were special to her. Women and children seem to be attracted to her compliments and praise for them. She always looked for newcomers at church that she could meet, greet, and learn their names and something about their needs. Loving people was her strongest attribute grown out of many years of careful and constant Bible study, prayer, and past experience.
She is survived by her husband of 51 years, Stanley Sewell, Piedmont, SD, her three children, Alan Sewell and D'Jonna Muehlbauer, Rapid City, SD, and Maretta Sulaiman, Jubail, Saudi Arabia, and her ten grandchildren, Ryan, Loren, Allison, and Jessie Sewell, Matthew and Kaitlyn Muehlbauer, and Salma, Saeed, Laith, and Savanna Sulaiman, Jubail, Saudi Arabia. She also is survived by her sister, Marti Sewell, Dallas, Texas.
Interment is at BH National Cemetery.
Friends may sign SaraBeths online guestbook at www.kirkfuneralhome