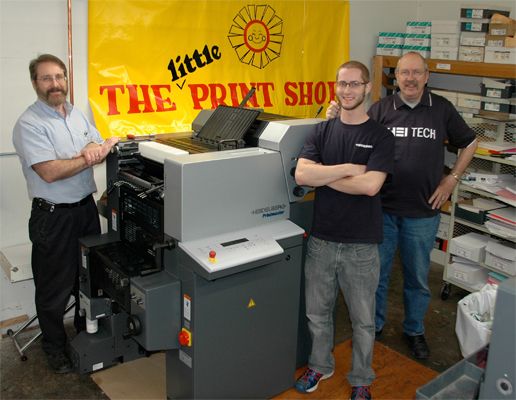 We have the products and services to help you look good
When it comes to business communications services, we've got it covered. We can provide virtually any product or service imaginable to communicate with your clients, employees, stockholders, or vendors. We're experts at corporate identity pieces. But that's only the beginning. To learn more about the many products and services we offer, please contact one of our representatives.
At the right Alan, Loren and Dave inspect our new Heidelberg Printmaster 2-color printing press.
Products
Services
Coil BindingCoil binding, also known as spiral binding, is a commonly used book binding style for documents. Documents bound with a coil can open flat on a desk or table and offer 360 degree rotation for easy note taking. This binding style is durable and is often used for documents that need to be mailed. Spiral coil binding spines are also available in sizes to bind 30 sheets of 20# paper up to the largest coil that binds up to 310 sheets of paper.

Comb BindingComb binding (sometimes referred to as "cerlox or gbc binding") is one of many ways to bind pages together into a book. This method uses round plastic spines with 19 rings for US Letter size and a hole puncher that makes rectangular holes. Comb binding is sometimes referred to as plastic comb binding or spiral comb binding. The small comb can bind up to 34 sheets of 20# paper and the large can bind up to 425 sheets of paper.